This weekend was just what the doctor ordered. Last week, I was telling Zack that I wanted to really be purposeful in our days, and especially to actually treat the weekend like a weekend, which with our schedules and working from home most days can be quite the challenge! It's so easy to let the days come in and go out and follow the same routine for each one, but the weekend should be sacred. The weekend should be a time to shift the schedules around, sleep in, eat breakfast in bed, go on adventures outdoors, and so on. Well, on Saturday night Zack took my little suggestion to heart and after Sam went down for a nap, we took our dinner outside and enjoyed the perfect weather of a late summer's day. We ate our turkey tacos and cheers-ed to summer and talked about life and it. was. the. best. Zack starts teaching again next week, so this was like our little farewell to summer. It was a good 'un. I'm pretty fond of that man I married.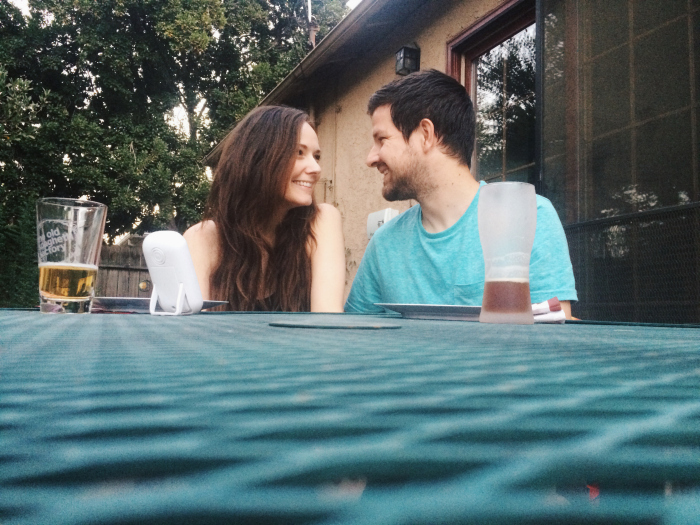 I posted this on my Instagram, but I wanted to write about it here too. As a parent of an infant, sleep becomes this magical thing that you are constantly in search of, and of which you never have enough. It's this mystical being that you are constantly reading books on and Googling absurd things like "Why won't my baby sleep through the night?" and "Is my baby broken??" No, seriously. Is my baby broken? Especially when you read these obnoxious things on forums (stay away from the forums!) that rave about how "my baby has been sleeping 12 hours straight since he was 2 weeks old!" and etc. And okay. Hey, that's great if that's you. But it ain't us, and I have an inkling it ain't the majority of people. And lately, I guess this lightbulb just kind of clicked, when I was looking through my Instagram photos, as I'm wont to do, of Sam when he was just a fresh new little tiny bébé and I mean, he still is, he's only 4 months old! But you know how it is. When he was still wrinkly and had that completely newborn look about him and we could hold him in one arm without feeling any sort of strain whatsoever. Le sigh. Anyway. I was looking at those pictures and already thinking "Oh em gee, my baby is not a newborn anymore!" -sob, sob- and thinking wistfully of those early days, and then I told myself to snap out of it. And I realized that I need to make myself snap out of it more often. Stop the Google searches for how to make my baby get to sleep, and stop the stress over whether I'll ever get a full night's sleep again, and to just STOP all of it.
Stop trying to change things. Stop trying to rush things.
Because, here's the thing about babies: they grow up. They grow up into bigger babies, and then toddlers, and then little PEOPLE. I know, this is news to you. ;) But really. Stop and enjoy the moments. Because they are fleeting, and "this too shall pass," and smell those damn roses, okay? So that's what I'm doing. I'm not stressing over every little thing. I'm enjoying the moments, whatever they may be, and making the best out of them. I'm creating my own sunshine.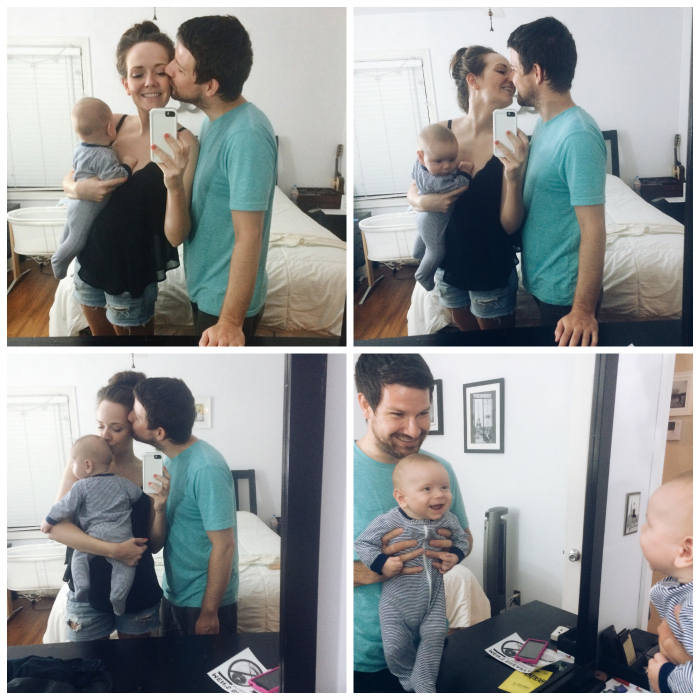 All this to say, Saturday night was one such night where Sam treated bedtime as purely a nap, and was awake an hour after going down, and instead of turning to Google, or one of the 50 bajillion sleep books out there, or stressing myself out over what we did wrong in the "schedule," I picked up my beautiful baby and looked him in his big blue eyes and smiled. And we sang. We danced. We giggled. We had a family selfie photo shoot. And you know what? It was fun. It was silly. It wasn't a big deal that he wasn't in bed yet. And then you know what's even more? He fell asleep not an hour later, and stayed asleep for the night. And it was way more fun than anything I've read in any stupid book. And that was our weekend. And if you ask me, it was perfect.
xo
Read More on Katie Did What