Today would have been my sweet mom's 59th birthday. Happy birthday, Mumsie. I know you're partying up there in heaven.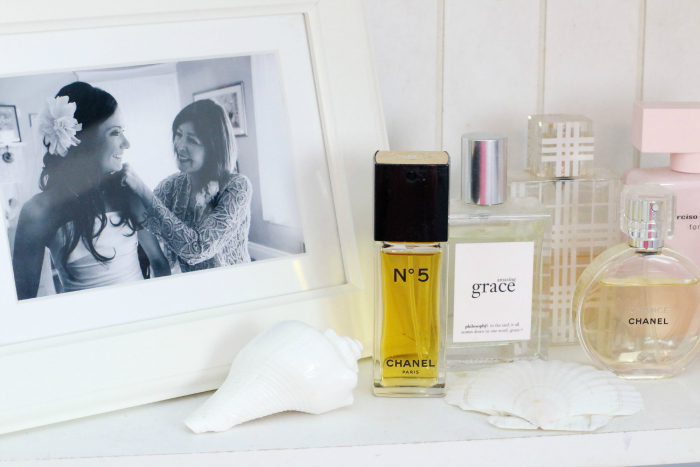 Everyone has a scent. Take away the perfume or cologne, take away the sweat and blood, take away the smoke and mirrors, and everyone has a fragrance that is uniquely them.
I remember when my grandpa passed away I was devastated. He was my hero. Heroes don't die. We were rifling through his things, as is customary after someone passes on. Picking out what items of his we wanted for ourselves, to remind us of him in the every day. I picked out a few things, and I remember for months to come, taking out those things solely to get a whiff of him. Like that made him present and here with me, even if just for a moment. I'd close my eyes and there he was, wrapping his arms around me. It was a gift straight from heaven.
When my mom passed away, I was more reluctant to go through her things. It was on a whole different level for me. I was scared that touching her things, moving them and dislocating them, would make it all the more real that she is in fact, gone. So I put it off. And then one day, I decided to be brave, and I opened up her closet and took a deep breath in. And there she was, like she'd never left. Like she'd been here all along. I breathed in that scent and closed my eyes, and nothing had changed. In that moment, my world hadn't been turned upside down. In that moment, she was so real I swear I could feel her with me.
I collapsed there on the floor in front of her closet, pulling clothes off of their hangers, and just wrapping them around me. It felt so good to feel like she was here again, even if just for that moment. I never wanted it to stop.
But here's the thing about clothes that I realized from what I had of my grandpa's: the scent starts to fade. It sometimes take a year or two, but slowly it dissipates and you're left with a hint of that person, until one day, it's gone. And all you're left with is a sweater, but no loved one.
Thankfully I have a good imagination. And when I close my eyes, I can still smell her. The loveliest mix of lavender and vanilla and heaven.
And when I want something more tangible, I spritz on some of her perfume- the perfume that I brought home with me after she passed away. And she's right back here with me- if even for just a moment.
The thing about a person's scent is that it's more than a smell. It's a feeling, it's a memory and it's something you can't bottle up in a pretty little package. But it's also something that you can have with you forever, if you only hold on to it tight. Sure, I may not be able to breathe in her scent any more, but I feel her with me everywhere, and that, perhaps, is even more precious.
xo
Read More on Katie Did What