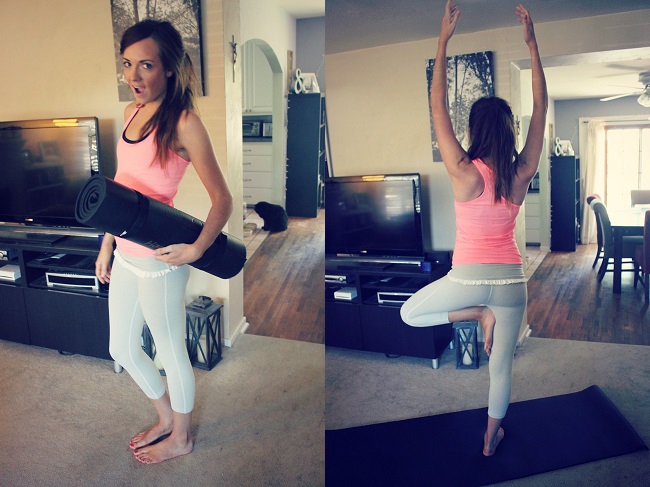 I've been asked a few times to share what I do for exercise, so I figured I'd just make a general blog post about it. It's really quite simple, actually.
PLAN. Every Sunday I write down my fitness schedule in my planner. You know what they say: If you fail to plan, you plan to fail! I recite that on the regular, and Zack just kind of shakes his head every time, but it's true!! Half the battle is just showing up, etc etc. Anyway. Yes. It's actually my favourite night of the week. I set aside some "me" time and write down everything I want to accomplish in the coming week, in terms of fitness, food, personal, whatever. I highly recommend doing the same! My Lilly Pulitzer agenda is literally my life, and if it isn't written in there, chances are I will not be doing it. Period.
TONE IT UP. As far as fitness goes, I pretty much follow the Tone It Up weekly schedule to a tee. Now, I have not (yet) purchased the plan, and I don't own any of their DVD's, I just follow the free workouts and schedules that they so kindly put up online! They have so many workout videos and some recipes and great motivation, and it's all free! Plus, it's a genius idea, because once you start following them, it's pretty much impossible to not want to join the community. I'm absolutely planning on it some day.
SWEAT EVERY DAY. On top of the weekly workout schedule (usually I do the recommended videos about 3 times through- each day focusing on strength training and working out a different body part), I also do cardio every day. Some days I'll run (with my husband! It's pretty much the best!) and other days if we don't get out to run, I'll hop on my spin bike and ride. It varies, but I usually ride about an hour, and this is when I get in my PLL fix. ;) I also make sure to get in some yoga at least once a week- usually Sunday. It's such a great way to wind down from the weekend and get ready, physically and mentally, for the week ahead. My goal is to break a sweat every day, and if I do that, I'm a happy camper. Endorphins are a helluva drug!
LISTEN TO YOUR BODY. One important thing to keep in mind with working out, is to listen to your body. Know when to stop. Know when you're pushing yourself just enough and when it gets to be too much. The last thing you want to do is injure yourself, and then be out of commission for who knows how long! With that being said, I don't have a set "day off" each week. Some weeks I take a rest day, others I don't, it just depends how I feel. I really prefer to treat my rest days as "active rest days" and still like to get out there and do SOMETHING, whether it be a fun bike ride with my husband, playing a game of tennis with a friend, swimming, or taking a nice long walk in the evening after dinner.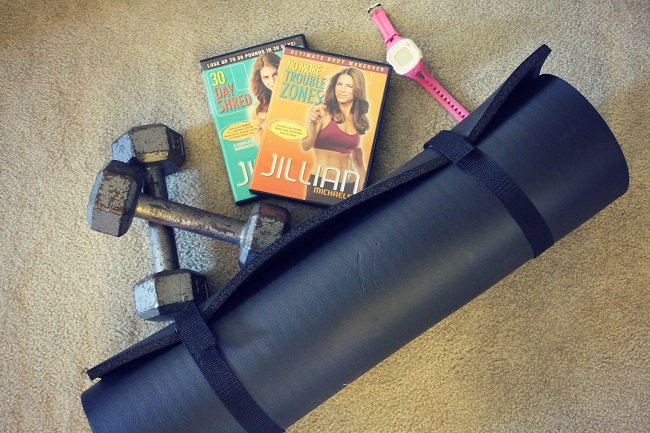 NO GYM NEEDED. The best part of all of this? I don't have a gym membership. I never have. So for all you fellow girls on a budget, you do not need a fancy/expensive gym membership to be fit and active and healthy! You don't! No amount of money is going to make you fit. My favourite exercises are ones that use my own body resistance and that I can do in my living room. Sure, it'd be great to be a member of a gym some day, when we can afford it, but until then? I am perfectly content using my living room, the internet/DVDs, a pair of dumbells (I have 5 and 8 lbs) and the great outdoors as my gym. It just takes a little motivation and you can do anything you set your mind to!
MOTIVATION. I can honestly say I am in the best shape of my life now and finally feel strong! I'm not scared to lift weights anymore! The beginning of this year is when this mindset truly kicked in for the very first time, because after seeing everything my mom was going through, it made me realize just what a gift good health is! It is certainly not something to take for granted and it opened my eyes to just how important it is to be healthy! I work out because I can. I work out because it makes me feel good. I work out because it empowers me, it makes me feel strong, and it makes me happy. I work out because I know what it's like to not have the option, and as long as I have this option, I'm going to take full advantage of it.
CUTE CLOTHES HELP. I mean, duh, right? ;) But really. If you're finding your motivation lacking, just get yourself some new cute neon spandex clothes and BOOM! Problem solved. I promise, this works. And no, you don't need to spend an arm and a leg. Yeah, Lululemon is cute, but guess what. You can get equally cute clothes for way less money. I love the workout clothes from Forever 21, Gap, Old Navy, Target, and stores like Marshalls and Ross! Great clothes for a fraction of the price!
I hope this helped some of you! I think it's pretty straight forward. I don't do any crazy things. I don't restrict myself or take any of my exercise to the extreme. I do what makes sense for me and what I can handle. Let me know if you have any questions, I'm happy to answer them!
Why do you work out?
What does your fitness routine look like?
What motivates you?
xo