Now that I'm going to be a mom, I have been thinking a lot about simplifying my beauty routine. I can be somewhat of a "product junkie" if you will, and as fun as it is to own a bunch of different kinds of makeup "things" and try out a variety of brands and products, I'm thinking it's more important to really boil it down to what I love and what works for me. Plus, word on the street is that new moms don't really have much time for primping and pampering and whatnot. Go figure. ;) So I think it's time to clean out that makeup drawer (and that other makeup drawer, and that bag full of makeup, and… well.. you get the idea) and just get down to the basic beauty essentials.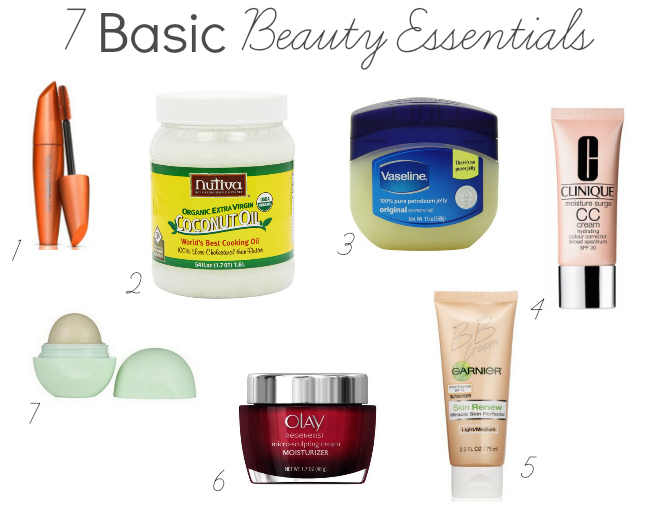 1. Mascara: I mean, duh. Ask any woman and it's more than likely the number one product she'll say she cannot go without. It is amazing what one little swipe of this stuff will do to waken you up and make you look like you put in more effort than you did. Cover Girl Lash Blast will always be my favorite, although Benefit's "They're Real!" comes in a very close second.
2. Coconut Oil: I had heard the awesomeness of this product for quite some time before I took the plunge and actually tried it out. And all of the hype is for good reason. This stuff is amazing. It's seriously like a miracle product. I cook/bake with it. I have been slathering myself in it each night in the shower throughout my pregnancy as a moisturizer/ stretch mark prevention cream. And I will absolutely continue to do so because my skin has never been softer or more smooth, healthy and glowing than it is now. I buy the huge tub from Costco (this one) and I highly recommend you do the same. Yes, it lasts forever, but with all of the ways I use it, I'm not at all worried about not finishing it. I'm actually going to be needing a new one soon!
3. Vaseline: Now, okay, hear me out on this one. Vaseline seems kind of old-fashioned, right? Like don't old ladies use that for God knows what, and that's pretty much it? Well, the other night I was desperate for a makeup remover, as I had just finished the last of my makeup remover wipes (which are also awesome, by the way, and so good for us lazy types) and I needed something- anything- to get that eye makeup off! I had remembered hearing a long time ago about how Vaseline can do the trick, and so I thought why not, I'll give it a try. Oh to the em to the gee you guys. It came off like a dream. I have very sensitive eyes, and some brands of makeup remover will really irritate them, but Vaseline? It was gentle and easy and it took off literally all of my makeup in a few swipes. Sometimes products that claim to even take off waterproof eye makeup (the most stubborn of the eye makeups) don't do that! It was like a lightbulb just went off right above my head. Vaseline! Who knew?! Also, I've been using it as an eye cream at night, because I read somewhere that it reduces the dark circles under your eyes. This is a new thing for me, so I'll report back on how that works.
4. & 5. BB or CC Cream: These are amazing little beauty products that I have been loving so much more than foundation. Sometimes foundation can be too cakey/heavy for my liking and I've been much more focused on treating my skin right these days. Plus, foundation tends to rub off on things, and when we have this baby, I don't want to be worried about getting makeup on him, you know? Since I'll obviously be cuddling the daylights out of him and his little cheeks! My favorites are the Garnier BB Cream and the Clinique CC Cream. Garnier for a lighter coverage and more of an everyday type of look, and Clinique for when I do want a bit more coverage. Both are incredible.
6. Olay Regenerist moisturizer: I love this moisturizer. So so much. It's great for sensitive skin, it leaves your face feeling baby smooth, and a little bit goes a long way. The best part is that you can find it at the drugstore! Score!
7. Chapstick. I literally cannot live without chapstick. It is always in my purse (okay, let's be honest, like 5 various tubes are always in my purse) and I freak out if I don't have any on me at all times. Nobody wants dry lips, people. I'm loving the eos lip balm, in the cute little colorful pods.
And that's it! What are your basic beauty essentials?
Just for fun: If you had to choose one makeup product- and only one- what would it be? Mascara for me!
xo