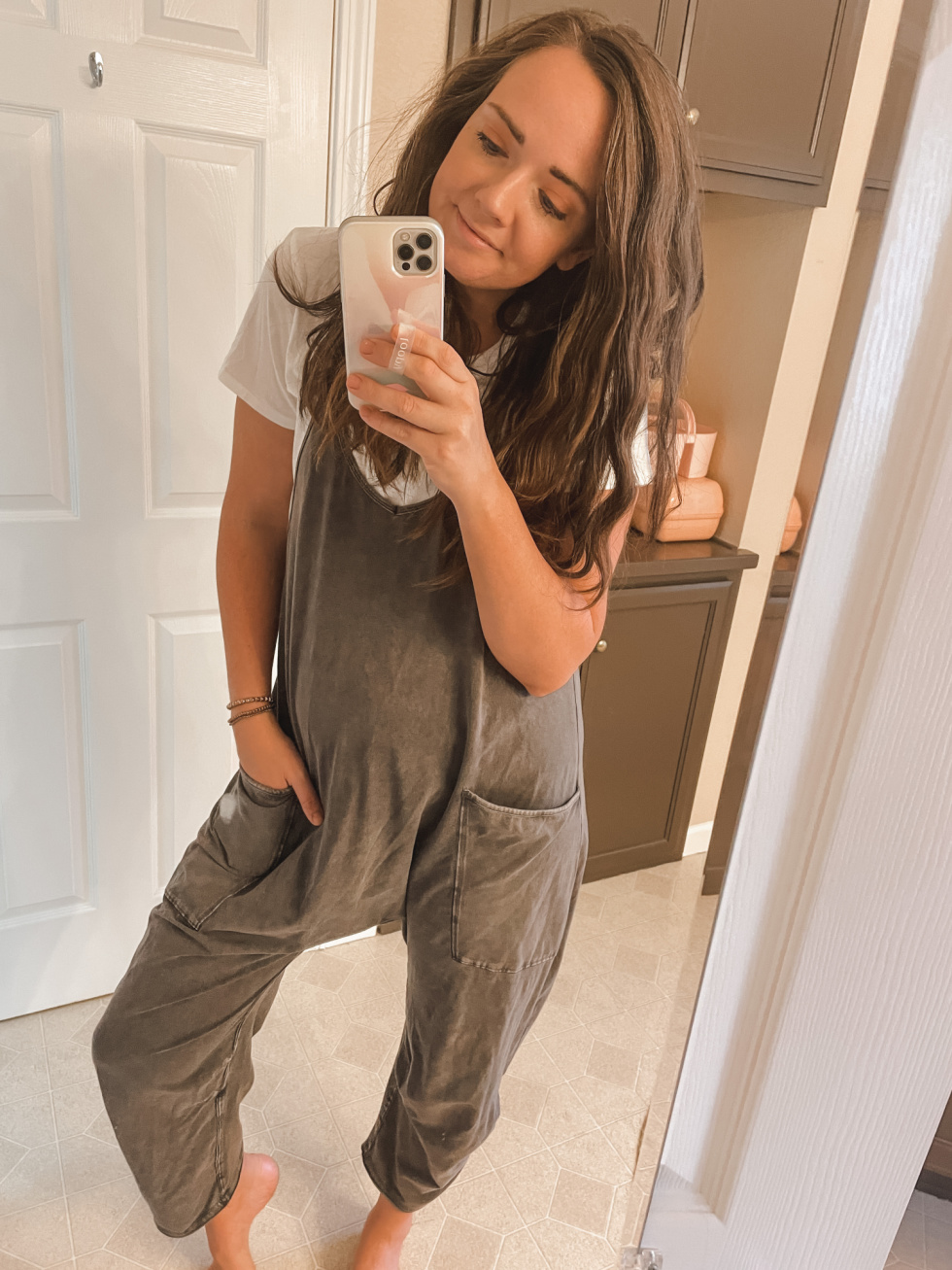 FAVORITE FREE PEOPLE JUMPSUIT (runs big, if in between size down! I'm in the small) || MADEWELL TEE
Hey, hi, hello there. Is this thing on??? I feel like I've been pretty sparse around these parts lately, and tbh I haven't liked that one bit. I recently was messaging with one of my old school blogger besties, and we were reminiscing about how it used to be… BEFORE social media ("kids, in my day…"), and I kind of had a realization. Why can't it be like that again?? Well, here, on this blog, I want it to be. Annnnnd I do what I want, SO. I'm baaaaack! ;) I've MISSED the good ole' days of blogging. Where I'd write random thoughts and turn them into blog posts. Where I literally did stream of consciousness and got all of my words out in a blog post, and added some pictures and BOOM, called it good. No over-thinking or over-curating. Just real, and raw and straight from my heart. Writing has always been an outlet for me, and I've really been neglecting that part of my life lately. But no more! Friends, I am back and you'll be seeing much more around here!
So if you've stuck around and are still checking this little blog, I'd love if you left a comment telling me how you found me or how long you've been a reader! I'm so grateful for all of you, and I hope you haven't felt neglected! I've MISSED YOU. Oh, so much. My little heart and head are so excited to be back and I'm just brewing with ideas! Of course, as always, if there's anything in particular you'd like to see, please leave a comment letting me know that too! In the meantime, here's my entry back into the good ole ways, with a little segment that shall be called…
MONDAY MUSINGS.
New Clothes.
We're getting some cooler weather (thank goodness, this summer was so hot! We actually beat a record of… ever… at 115 degrees!!! I went outside to feel what exactly 115 feels like, and I can report back that it truly is another level of HOT, like, disgustingly scaldingly uncomfortably HOT), but now we're finally getting cooler weather, and that means it's time to bust out the cold weather wardrobe. And that also means it's time to find out just how much Sam has grown. I mean, all of them, but goodness it's most prevalent in Sammy Sam. All of his pants have become high waters. No joke. And like, he's cute so he can pull that off and it's just adorable, but still. Nobody wants cold ankles in the rain. Sooooo now we need to get him a whole new fall wardrobe, poor guy lol. Anybody have any great suggestions for tall and skinny boy pants, lemmeknow!
Pre-Restaurant Menu Perusal.
Zack teases me endlessly, but I always have to read the menu before going to a restaurant. But like, doesn't everyone?!? I feel like more do than don't. Otherwise, I would literally take forever to order, okay! I need to know my options and exactly what I'm ordering before I step foot in the establishment. And I don't think I'm alone in this. I simply cannot NOT be prepared! It's too important of a decision!!
Hope you guys have a great week!! It's Monday, try to be productive. lolz.
xo