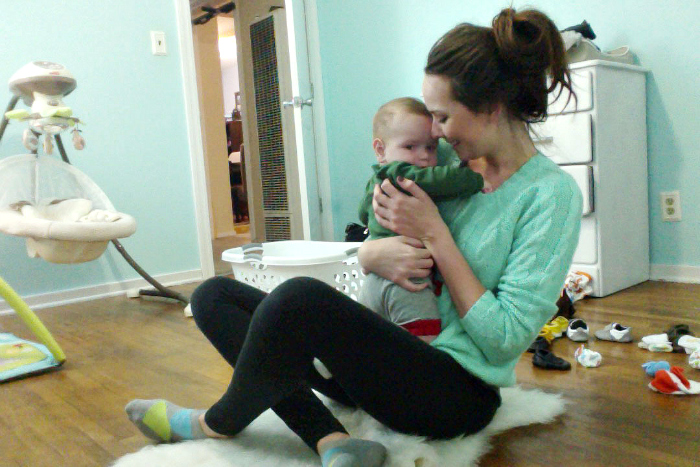 Sometimes in life, you are faced with very important decisions. Last night, was one such time. I was in the nursery, folding the growing pile of clean tiny clothes that had accumulated into a huge heap in the laundry basket (as they do). (Does anyone else do that? You wash the clothes, you (if you're lucky) remember to dry the clothes early enough so that you don't have to re-wash the day-old clothes that are now wet and don't smell very good (I completely blame "Mom Brain" on that one), and then you proceed to put the fresh load into the laundry basket. And then another load, on top of the previous load, goes into the laundry basket. And then, more than likely, another one, because babies! They are messy, man! And also forgetfulness plays a factor in all of this too, I am sure. Anyway.)
Last night I was sitting on the nursery floor, with Sam in his swing, and Zack making dinner (I KNOW, I promise you I do not take this man for granted) and I was folding the laundry (by the way, tell me what is better than folding tiny baby laundry- NOT MUCH) and I look over and Sam is just cheesing at me. So naturally, I cannot resist his little gummy grin (with three tiny teeth! Three!) and I say "The hell with laundry!" and I pick him up out of his swing and play with him.
Because here's the thing: When faced with the question of "Laundry or Baby Snuggles?" one must always choose baby snuggles. You'd be a damn fool not to, I do believe.
And mama didn't raise no fool.
xo