(Not really, but I'm loving this song right now. What I'm loving even more is that my mom told me SHE loves it, too. Heh. My mom is awesome. And, yes, my mom is an Eminem fan.)
Okay, so. Wedding planning, I have found out, comes in sort of waves, if you will. There's weeks where I am consumed with all things weddings, and I eat, I breathe, I dream weddings. And other weeks, things kind of seemed to "lull." Not a bad thing, by any means, and certainly necessary for the whole keeping-of-the-sanity thing. But this week? Oh, ladies, this week has been one torrential downpour of all things WEDDING! My bridal shower was pretty much the kick-off to my wedding madness, and I'm happy to think from here on out, there's no end in sight. Have I mentioned that I LOVE IT?!
This week we made some additions to our bridal party (which I am so so so excited about!) A dear girlfriend of mine is in a master's program overseas, and she was for sure coming to the wedding, but at the time it didn't seem like a possibility for her to actually be IN the wedding, but all that has recently changed!! I am so excited to add a bridesmaid to my lovely crew! And, of course, with my addition came an addition on Zack's side, also, which couldn't have been a better decision. I love the great support system we have going for us. It rocks.
Also, the past few days, Zack and I have been working on our ceremony programs, which was one of the aspects I have been most excited about! They are pretty much perfected, and I am SO happy with the outcome!! They aren't 100% finished yet, so I can't share with you all, but my oh my. I'm smiling just thinking about them!
My J. Crew ballet flats came, and they are P-E-R-F-E-C-T!!! SOOOO comfortable and GORGEOUS! (For anyone who's interested in buying them, they are the j. crew lula ballet flats.) They run true to size (I'm a 9, and I ordered a 9, and they are the most comfortable shoes I've ever worn, I swear). They're so soft and UGH. I am in love. The end. And I ordered these adorbs pink glitter tulle bow shoe clips from etsy to put on them.
Look how excited I am: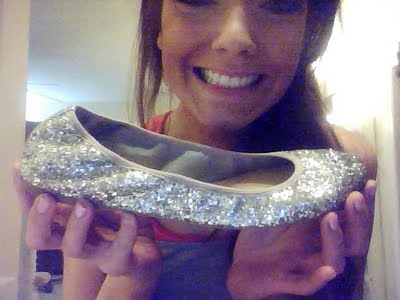 Well, time for me to do some P90X. I'm so proud of myself; I've been sticking with the program (I'm doing the "Lean Routine") every single day for the past 3 weeks, and it feels WONDERFUL!! I love being active, and I find myself looking forward to working out! It's so much fun. I tease Zack and tell him that Tony's my new favourite workout buddy. Hehe.
And tomorrow's Easter! Yay! We both got work off, so we are going to church in the morning and then spending the entire day with family. My family at 1 and then his family at 5. Yes, that means two Easter meals, but we've kind of perfected the whole "two meal" thing since it's what we do on Thanksgiving too. And of course there will be a lot of chocolate bunny consumption nom nom nom. I still need to make my chocolate-covered strawberries for tomorrow's festivities!
I love holidays. Especially this one. I get to wear a pretty flowered skirt and spend the day with family. Do you have any fun Easter plans, bloggy friends??
He is risen! :)