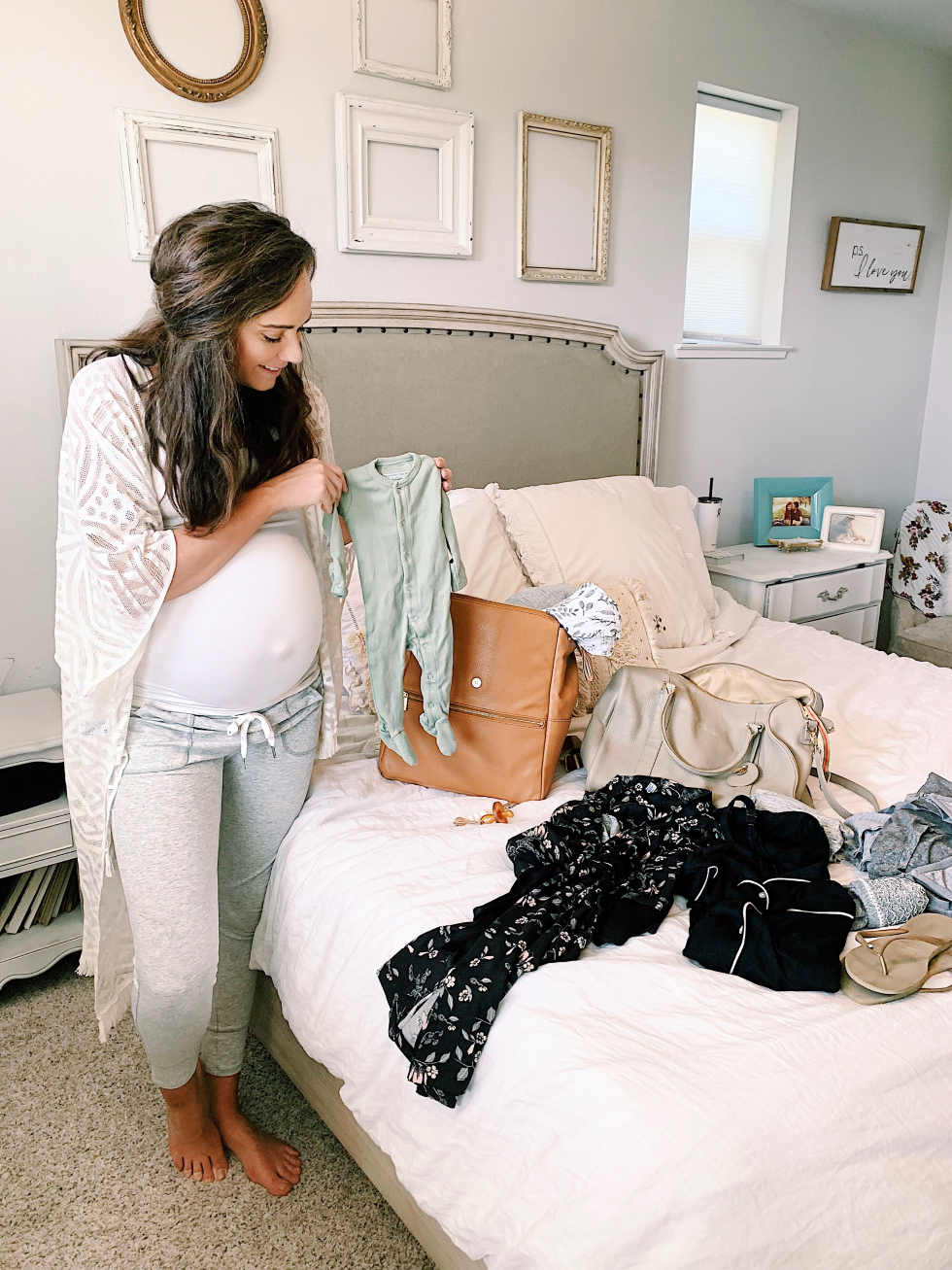 KIMONO | TANK TOP | JOGGERS | BABY ONESIE | DIAPER BAG | GREY BAG
As I'm gearing up to have a baby, the THIRD time around, I thought it would be good to create this post- this is all of the things you ACTUALLY NEED for the hospital, and nothing you don't. I've learned, from doing this twice already, the items that you will absolutely want to bring with you to the hospital for labor & delivery, and the ones that are totally unnecessary! I've created A PRINTABLE CHECKLIST, too, so you can plan accordingly and check off the items as you pack! Print it here! Now, without further ado, I bring to you: my ultimate hospital bag checklist!
FOR MAMA
TOILETRIES: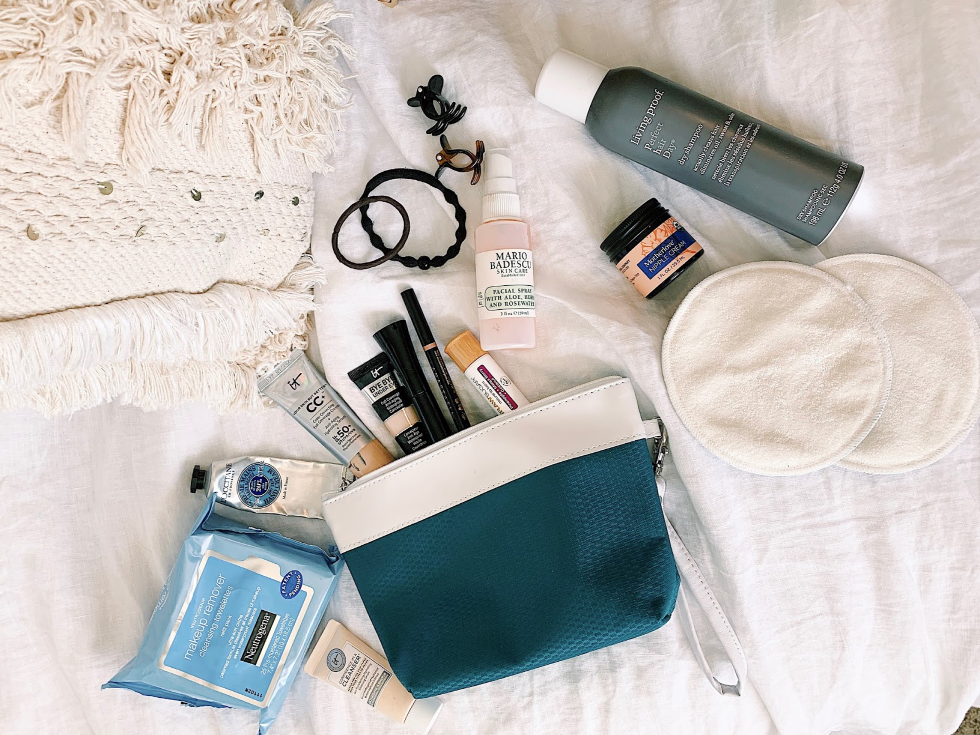 Dry shampoo
Toothpaste/brush/floss/mouthwash
Chapstick
Makeup (I keep it minimal, but like to freshen up and wear some makeup, it makes me feel more human! My basics: cc cream, concealer, bronzer, mascara and brow pencil)
Facial spray (love spritzing this on for an instant refresher!)
Deodorant
Brush/hair tie/scrunchie/hair clips!
Hand cream
Face wash
Moisturizer
Nipple cream
Nursing pads (for any leaks!)
Glasses/contacts/solution
*Our hospital provides all of the necessary after-birth care items, like Tuks, Dermoplast, Tylenol, stool softener (please please pleeeeease take the stool softener! Trust me!) and mesh undies- be sure to stock up on all of that and bring it home with you!
CLOTHING:
I recommend dark colors, hence why I'm only bringing blacks and greys. There is a lot of bodily fluids and whatnot, and you don't want to ruin any clothing, as much as you can help it! ;) Plus, dark is forgiving, and doesn't show stains!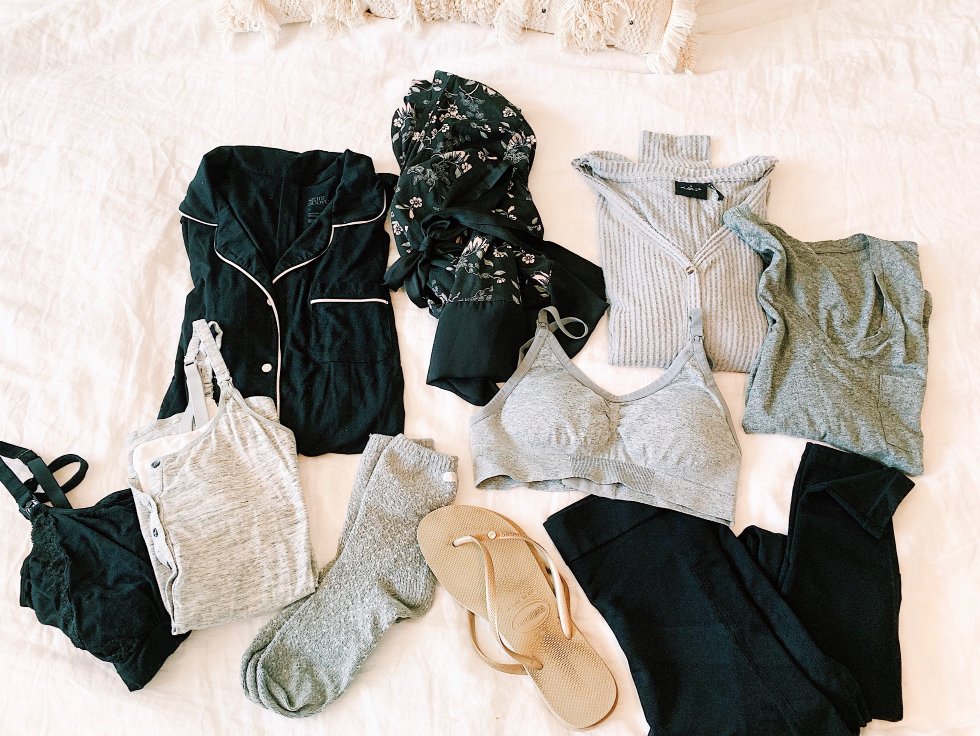 What I'm bringing:
Robe (easy for nursing! Love this one and this one)
Pajamas (I got this black nightshirt and love it! So cute and comfy and perfect for nursing and for the nurse checks "down there" since it's a dress! I sized up to a large for length (I'm 5'9″) and comfort! This one is cute too!)
Socks (hospitals get cold!)
Flip flops (for shower)
2 Nursing Tanks
1 Nursing Bra (I got these and LOVE them! SO comfortable!)
Going home outfit: maternity leggings (you will still look about 6 months pregnant after birth, and I love these leggings for support and comfort!), oversized v-neck tee if it's warm (easy for nursing and comfortable!), button down sweater if it's cold.
MISC:
My own pillow (for some comfort in the hospital)
Camera
Phone charger (extra long cord, so it reaches you!)
White noise
(hospitals are loud)
Snacks
FOR BABY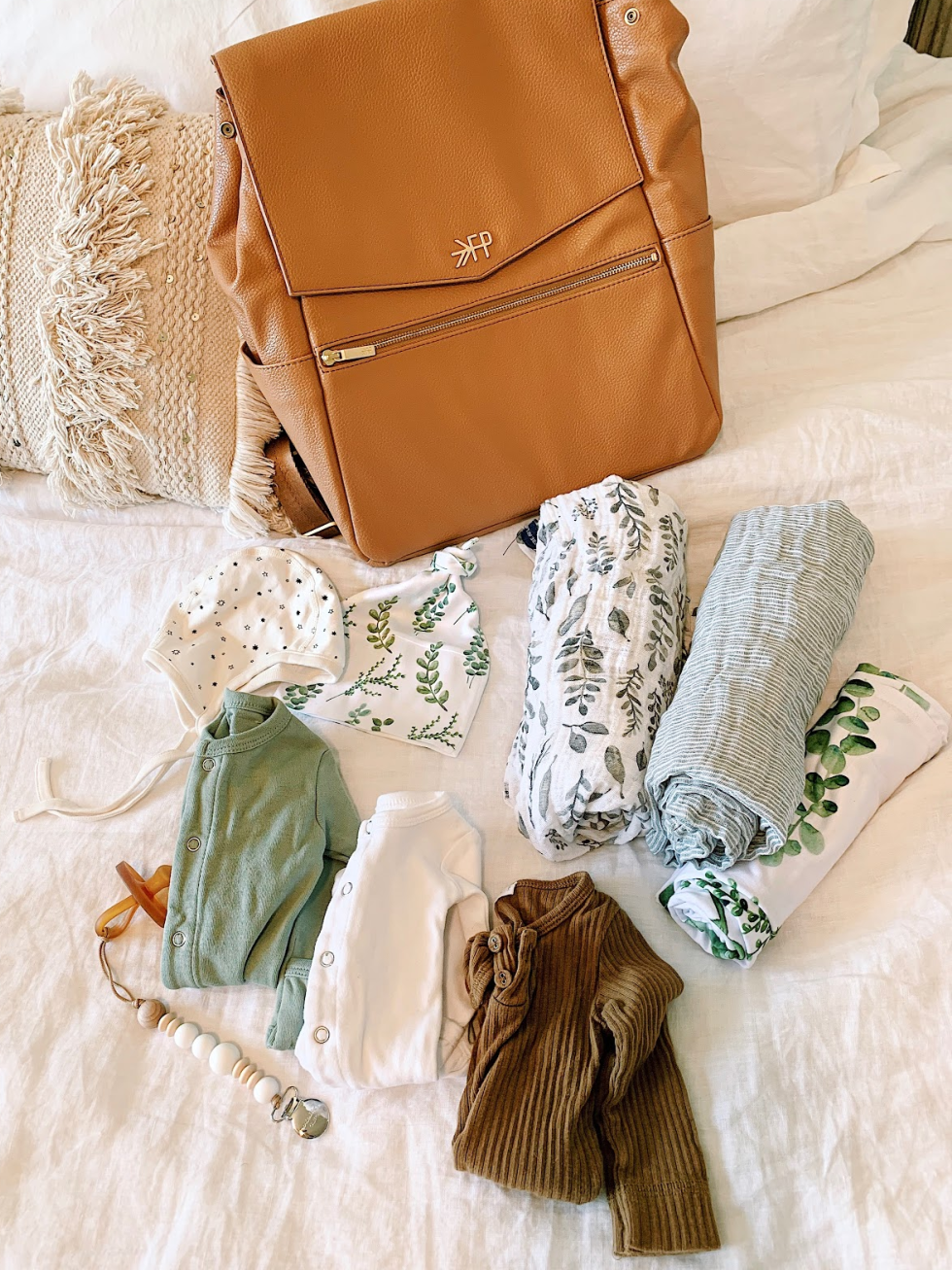 BAG | BONNET | LEFT SWADDLE | STRIPED SWADDLE | GREENERY SWADDLE (linked the shop, she doesn't have this swaddle or the little beanie in her shop yet) | ONESIES | PACIFIER + CLIP
3 long sleeve onesies (one newborn size, two 0-3 months- you never know how small/big your baby will be! I love these!)
2 beanies (bows if a girl- these are the best!)
3 cute swaddles (for pictures, they do provide swaddles at the hospital- be sure to bring home with you! I love these and these!)
Going Home Outfit
Pacifier (some hospitals won't give you one)
Diaper bag for baby stuff!
Infant car seat (installed properly beforehand! They won't let you leave the hospital without one!)
Our hospital provides diapers and wipes, so no need to bring those!
FOR DAD:
Well, if your husband is anything like mine, he needs very little. Like, the bare bones. He'll be sleeping on the pull-out couch/chair/whatever they have in the hospital room, or next to you in your hospital bed, and he really won't require much. Or, he shouldn't. ;) We're talking a change of clothes, sweats/tee for nighttime, and some slippers or just socks. Snacks, too. Boom.
FOR NURSES:
Basket of goodies or some sort of treat/snack for L&D nurses station + After Care Nurses Station. Forego the homemade goodies (I know the sentiment is there, but would you eat something a stranger made, not knowing where it came from?!) and stick with pre-packaged goods! We're planning on bringing some individually wrapped cookies or brownies!
WHAT YOU DON'T NEED:
Diapers, wipes, pads, mesh undies (aka the best things everrrr haha) and things for post-birth, like perineal spray + bottle, tucks pads, etc. Your hospital will supply it all, so don't worry about bringing that stuff.
NOTE: I have heard a few people saying their hospital does NOT provide these things, which is news to me! So definitely check with your hospital ahead of time to be clear on what they do and don't provide!
I hope you find this post helpful! Share with your expecting mama friends- and I wanna know what YOUR must-haves for the hospital are!
xo