Another gift guide!!! This time, for HER (also known as Katie's Favorite Things or My Wishlist, depending). So, I present to. you: Christmas gifts that are all things I own and love, or things that I wish to own and love. ;) This could also be for you, of course, or for a friend or any woman on your list. Hope this is helpful!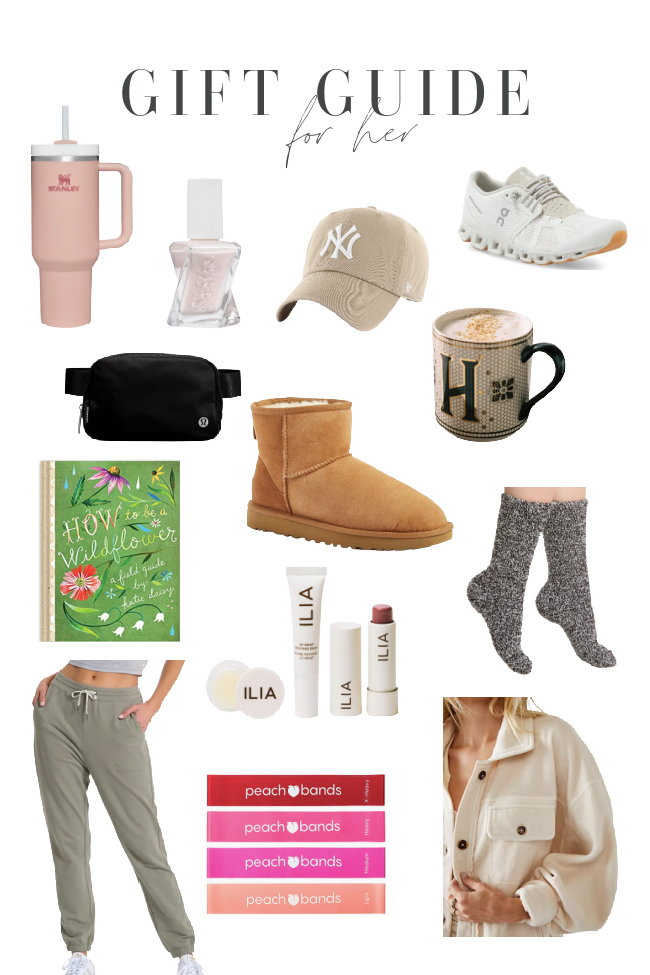 Stanley Cup // The best cup everrrrr! ;) 40 oz, keeps your drink so cold for SO long, and the handle is everything. PLUS, it fits in your cup holder, yes please. Tons of colors!
Nail Polish // My favorite!! Looks like gel, minus the hassle!
Baseball Hat // This one is so cute, Yankees fan or not. ;)
ON Sneakers // These are on my list!! They're super cute and I've heard great things about how comfortable they are!
Lululemon Belt Bag // Y'all knowwwwww my obsession is real with this one! Completely! My most-worn bag. Nuff said.
Ugg Boots // Keep those toes toasty! I love the short style. I also have the Tazman but we all know those are currently sold out everywhere!
Initial Mug // You know you need another mug!
How to Be a Wildflower // I recently flipped through this book in a local gift shop, and fell in love! It's gorgeous, and makes for a great decor piece too, for some shelf styling!
Cozy Socks // Zack… errr, Santa… puts a pair in my stocking every year!
Ilia Makeup // My favorite clean makeup brand! I love so much of theirs, this lip gift set would be a great gift!
Vuori Joggers // Such a great brand, with buttery soft clothes! The color of these joggers is swoon-worthy!
Booty Bands // For the workout lover! I love these!
Free People jacket // So cute!!
GIFT GUIDE FOR HER
xo