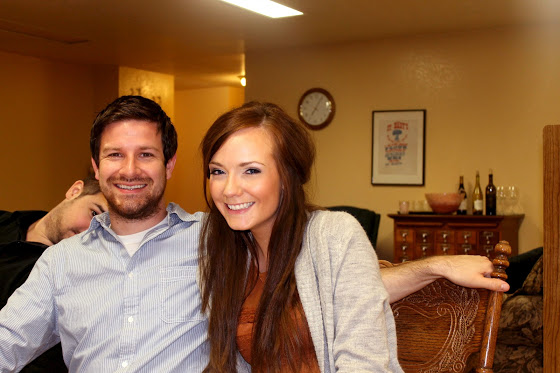 {photo bomb!}

Dear Zack, Can you believe we get two Thanksgivings this year, on two separate days?  Hall-le-lu-jah is all I really have to say about that one.  So glad we don't have to split the one day and do two feasts in 24 hours this year!  One down, one to go!
Dear Thanksgiving, We ate lots of delicious food and spent time with Zack's family.  My favorite part had to have been when his grandpa's wife asked if I was "expecting."  Why, no, I'm not but thank you?  I'm gonna assume it's more of a "hey, you've been married over a year now, what are you waiting for?!" as opposed to a "hey, you look pregnant!"  My pride and all.  Anyway, I'll be working out like a mad woman today because tomorrow?  We're doing it all over again.  It's Thanksgiving #2, with my family!  :)
Dear Macy's Thanksgiving Day Parade, As much as you are the same exact thing each and every year, and seem to get cheesier each year too (how is that even possible?) I still must watch you, because it is Thanksgiving morning, and that's just what one does on Thanksgiving morning.  So.  I watched you.  You were super cheesy.  And yet, you got me all excited because hey, guess what!  The holiday season can officially begin now!  We saw Santa!  (He's, like, the official start of Christmas season, you know.)
Dear Yosemite, As much as the car ride really did a number on us (Zack in particular) I know we will be back, because let's be honest: It was worth it.  That place is incredible.  You can see all my pictures from the trip HERE.
xo
And today I'm thankful for… shopping, duh.  Even though I'm not braving the crowds, I'll be doing some shopping of my own from the comfort of my computer.  :)  Have you heard of the Shabby Apple Black Friday sale?  Get 20% off sitewide with code JOYFULSEASON at checkout!  Amazeballs!
twitter // facebook // pinterest // instagram @katie_did_what