Happy FALL, y'all… finally!! Fall is my favorite season of the year- the season of cozy, of brisk mornings and open windows, of sweaters and boots and finally feeling that longed-for crisp in the air. Also, pumpkins and apple orchards and PIE, AMEN. So, sharing my fall favorites for the home today! Fashion coming up next… :)
FALL FAVORITES FOR THE HOME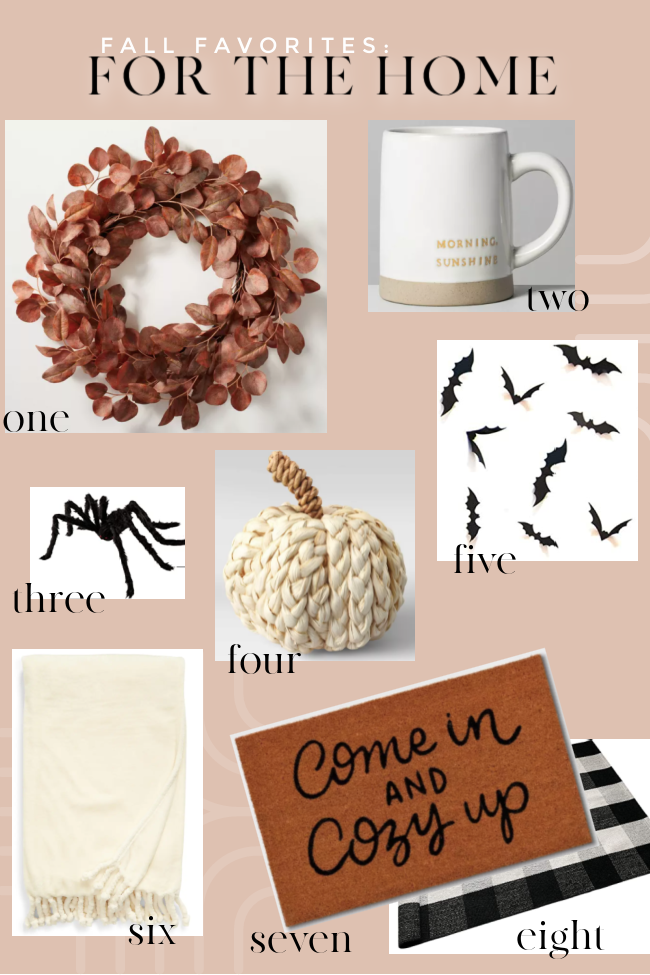 ONE // TWO // THREE // FOUR // FIVE // SIX // SEVEN // EIGHT
A festive front porch is a must, and this cute new doormat is the best addition! I layered mine over this simple black and white one for the cutest look!
This wreath is my favorite fall one that I've found- it's SO good and affordable!
We've got the giant spiders on our house, which is a big hit with the littles!
Of course, have to have the paper bats– get creative with these!
Pumpkins are EVERYWHERE, and this one is our newest addition this year.
And you gotta have a new mug, right?? This is my current go-to! It's the perfect size for that first large cup of coffee in the morning. This cute polka dot one is cute too!
Cozy is key, and a good soft throw is important. We have this one and love it!!
And Fall wouldn't be the same without allll of the yummy essential oils diffusing throughout our house all day long! This Festive Fall Bundle has all of my favorites to keep your home smelling yummy and feeling cozy! For more on oils, if you're interested, I have a whole post on How to Get Started with Essential Oils!
What are your fall plans?? We've got pumpkin patch, apple orchard, cider tasting and lots of adventuring on our fall bucket list!
And I put this fun post together last year, for some fall outfit inspiration: 24 Fall Outfits
xo