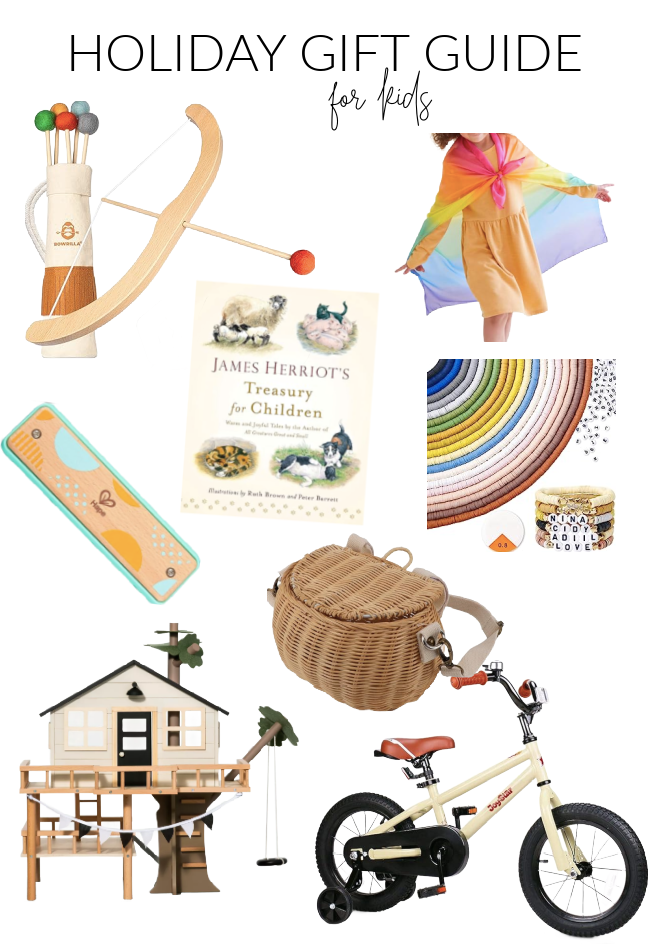 Archery Toy Set || James Herriot's Treasury for Children book || Playsilk || Hape Harmonica || Bracelet Making Kit || Bike Basket || Wooden Dollhouse || Kid's Bike
Play is the work of the child. This is a rule that we wholeheartedly follow around here, and so what toys I allow in our home are so important to us. Less is more, but also quality over quantity! We love cute, open-ended toys, that the kids will get hours of play out of, and can let their imaginations run wild! With this in mind, I've created our Christmas gift guide for kids, and I hope it gives you some ideas for your own!
It's no secret around here that we LOVE Lovevery– we have so many of their play kits, and their beautiful heirloom-quality toys that are aesthetic but also open-ended and great for all ages are some of the most played with ones in our home. Here's my link if you want to gift some. My favorite hack is to get a play kit and individually wrap each toy inside, and voila! You've got a great set of gifts, for multiple kids! Easy peasy! Shop the kits here!

xo