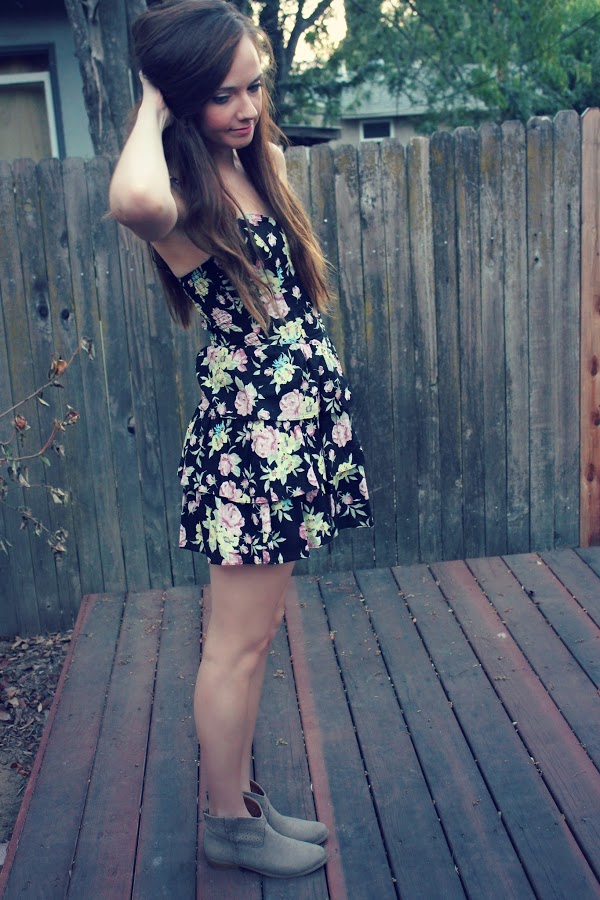 dress: h&m (old)
I had a delicious salad for lunch yesterday. My favourite salads to make are the ones where I just throw on everything I can find in my fridge that seems suitable for a salad, and voila! Salad! This time it was spinach, avocado, apple chunks, feta, sun-dried tomatoes, bell peppers, cucumber, walnuts and some light Italian dressing. And it was super satisfying and healthy and scrumptious.
Another thing that happened yesterday was, I went to my optometrist (before I made the salad). I seriously love that office. I've been going since I was in 3rd grade, and it's a home-run business, and they are hilarious and kind and sweet and loving and they know me. Most doctor visits I feel nervous for (I don't know why, but my blood pressure is always higher simply because I can't make my heart slow down out of nervousness? to see the doctor? yeah, I should definitely learn how to get over that…) but not here. I don't know. It's like home, walking through those doors. Anyway, it was even more of a positive experience because my eye doc informed me that my vision has, in fact, gotten better! Yes, only in one eye (but it is the worst eye!) and yes, only by a tiny teeny bit, but it's better! Hallelujah it's better! And it means a helluva lot to the girl who's biggest fear in life since being prescribed glasses has been going blind. This whole paragraph makes me sound terribly dramatic, I know. Oh, and also, he told me that I should blink more. A little thing he likes to call "blink training" because that is the reason my eyes get dry- I'll be sitting on the computer or reading a book and I will literally just forget to blink regularly, and turns out that's not the best thing. But it's also a very common thing, especially amongst people who are in school or who are on the computer a lot. So. Very common. Also. Note to self: blink more.
There's also this- my eye doctor said to me, " Have you been doing something different? Your complexion looks phenomenal." And so. That was nice.
…And that's all's I got for today.
Do you wear glasses/contacts or are you one of the lucky people with perfect vision, like my hubby?
What'd you have for lunch yesterday?
Tell me something random from your day!
xo
Read More on Katie Did What