I can't believe it, but Back to School time is here!! Sophie started KINDERGARTEN last week, which is just absolutely insane to think about, but here we are! I'm so torn between feeling like she's too big already and missing our days together, but also so excited for her to make so many new friends and spread those wings a little bit (but also not stoked on packing lunches every day again lol). We've made the decision to continue homeschooling Sam, as for now it's the best fit for our family and situation! He's also still going to his ABA social skills group and we're hopefully going to be doing another social group as well in the fall, so lots of fun planned for him, too! So. I guess we're a homeschooling family still, after all! ;) And of course, Ollie is along for the ride, as always ha!
I'm rounding up all of my back to school favorites today!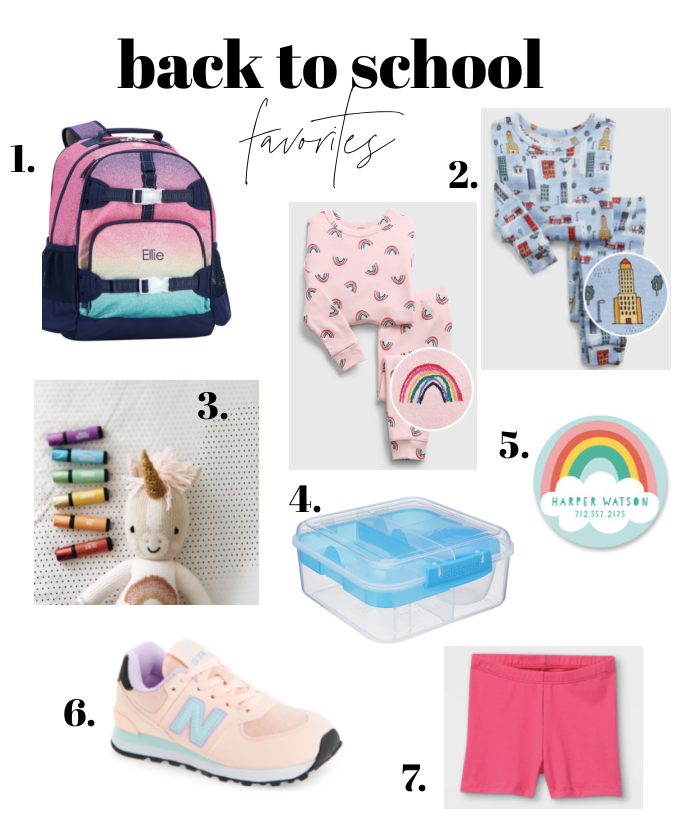 one // two (& here) // three // four // five // six // seven
ONE // BACKPACK – It took me forever to land on a backpack for Sophie, and after debating between more expensive/quality that will last, and a cute one that she gets to pick (sort of… out of my narrowed down choices, of course, but shhhh) I ended up going with the latter. She can have the quality/lasting for years backpack later. This is kindergarten!!! Give me alll the glitter! ;) This is the exact one we got her, also love this and this are cute too!
TWO // PAJAMAS – For the night before the first day of school, but also LOOK AT HOW CUTE THEY ARE. I cannot. Got the rainbows for Sophie and the city ones for the boys! (on sale now too, 40% off plus 10% with codes FRIEND and FAMILY10)
THREE // OILS – I am so happy we've got oils in our home this year!! Gonna be diffusing KidPower and energizing blends in the morning, and calming blends at night. And rolling them alllll over with all of the Thieves (hi, immune support!!!) and bravery oils for Sophie girl, our tenderhearted little love. For my fellow oily girls:
Brave (aka Unicorn Roller): 10 drops each: Valor, Frankincense, Bergamot & Stress Away. Top with carrier oil. Roll on wrists, behind ears or over the heart & inhale deeply. You will LOVE, for your kids and yourself!
Immune Support : 10 drops each Thieves, Lemon and Frankincense. Top with carrier oil. Roll on spine and bottoms of feet, morning and night.
Want to get started with oils, but not sure where to start?? You can shop my favorites HERE! And my Back to School oily picks here!
FOUR // Bento Lunch Box – We have these for the kids and love them! Super easy to clean and hold food well, and love the size of them! Perfect for all of the food! We also have these stainless steel bento boxes and love them, but they're more difficult for the kids to open on their own, fyi.
FIVE // Name Labels – We've been getting these labels since Sam started preschool (so… years!) and they're our favorites! So many cute options to choose from, too. Love the circles for water bottles/lunch boxes/bento boxes. The larger rectangles are great for pencil boxes/backpacks. The name tag labels for clothing! So sticky, don't come off, and are machine washable!
SIX // Sneakers – Grabbed these cute New Balances in pink for Sophie and navy for Sam- at 40% off! Super comfortable and cute, for running around and playing!
SEVEN // Bike shorts – These bike shorts must haves for underneath dresses and skirts for littles! So inexpensive, too!
Hope you have the best end of summer EVER, and an amazing start to the school year, whatever that may look like for you this year!! Who else is getting excited for FALL?! Maybe just a liiiiitle? ;)
xo
Read More on Katie Did What