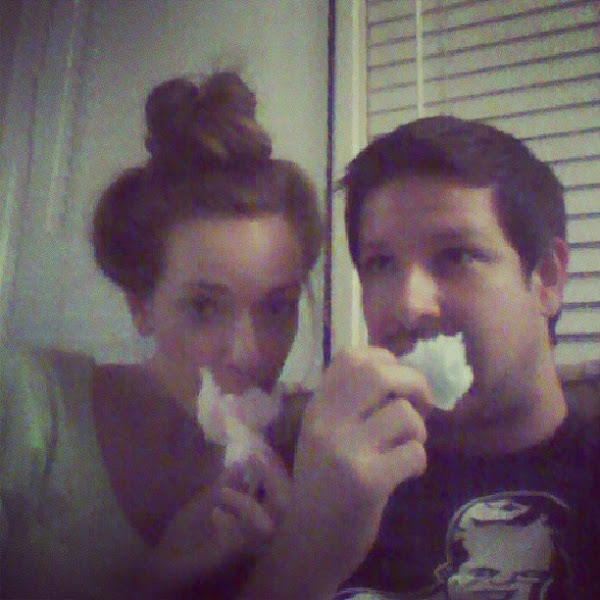 {terrible quality, but I like it nonetheless. cotton candy time}
Because of course The Bachelorette would split the finale into two parts. Duh. I have been highly anticipating this finale, mostly due to the amazing job of the editors to really make it look like something CRAZY is about to happen. I mean, the amount of tears and dramatic tense music and did I mention tears? It's bound to be a good one… Right?

Each Tuesday throughout the season you can come here and read the highlights of watching The Bachelorette with my husband. See last week's man quotes here!

Chris: "I'm truly, madly, deeply in love with Des."
Zack: What are you, Savage Garden? Man, he said it all. Like, he had just listened to Savage Garden and was like "Oh! That's a good one!"


…And he wanted me to show you guys this video:
Chris: "Des and I are literally on top of the world right now."
Zack: On top of the world?? You're 100 feet above the ocean!
Des: "Today we're going to the island of Barbuda."
Zack: What was wrong with the island you were on?!
Katie: Wait, what were they just talking about?
Zack: Uhh… Nobody's said a coherent sentence in hours.
Brooks: "I've been ready to get married before…"
Zack: This isn't my first rodeo.
Zack: The most awesome part is there's somebody back pedalling in front of them with a big ass camera.
Des totally knows where this is going, because she's been doing this to other people for the past two months.
Zack: Now she knows how Juan Pablo felt. He just wanted to make it to the Honeymoon Suite and have breakfast with her! 
Zack keeps referring to the Fantasy Suite as the "Honeymoon Suite."
Des: "I guess you're going home then."
Well, that was depressing. And a lot of crying, as was promised, so hey. I guess the editing really wasn't as far off as I was expecting!
Did you watch? What did you think about the drama? I just feel really bad for the other two guys. It's not fair. If she knew who she wanted so much, she wouldn't have been leading the other guys on. Can I get an amen?!

xo