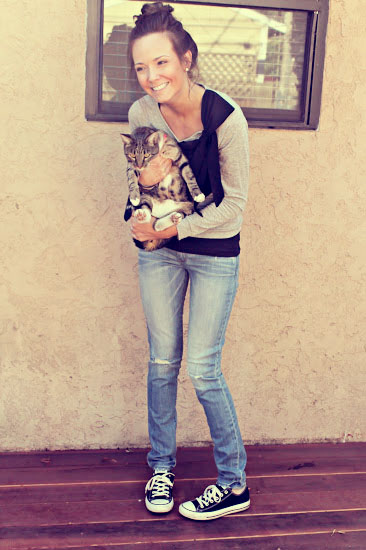 sweater: forever 21
tank top: victoria's secret
jeans: abercrombie & fitch (similar
here
)
shoes:
converse
cat: backyard adoption ;)
last night i was watching tv by myself and scrolling through the guide and saw "the exorcist" and for some reason i thought, "hey! i've never seen that movie! that sounds like a good idea for me to watch right now at night whilst alone on the couch" (even though zack was in the other room, i was still alone, okay?) and went to the channel, and all i heard were these awful creepy noises and laughter coming from a bed at which two older men were standing, and then it showed this really creepy possessed little girl in the bed, and i immediately realized that this was, in fact, NOT a good choice AT ALL.  and i changed the channel immediately.  and then i made zack come hang out with me until we went to bed because i couldn't be alone anymore.  so.  moral of the story is that i cannot handle scary movies.  especially not alone.  and especially not the ones about demon possession.  so.  hopefully i've learned my lesson.
(spoiler alert: i haven't.)
question:  what's the scariest movie you've ever seen??
xo