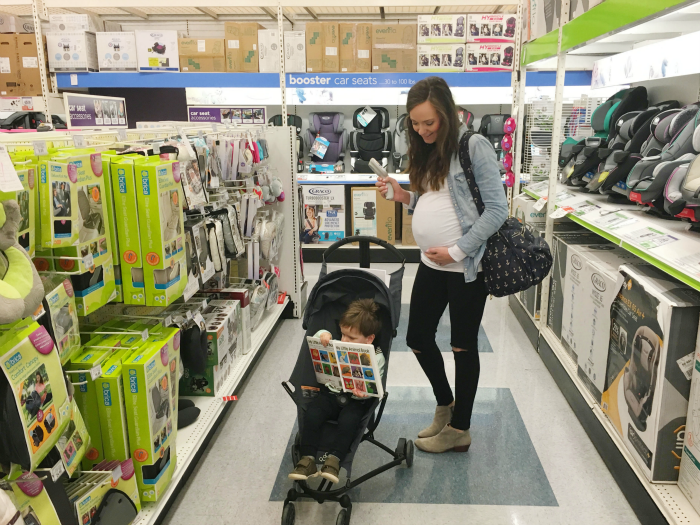 Since our first baby was a boy, I stuck to registering for mostly gender neutral things, with some boy touches mixed in. But now that we are having a girl, I have been much more into the gender-specific things. Let's face it: there are just too many adorable little girly things! I'm kind of enjoying all of the pink more than I thought I would! ;)
We opened up a registry with Babies "R" Us, and it made it so easy to pick out the things we still need and to have everything in one place – and of course pick out some girly things! Also makes it easy for anyone who asks us what we need, since a lot of people have no clue, especially with the second baby!
We recently headed to our local Babies "R" Us to meet with a Personal Registry Partner and create our registry in store. It was so easy – not to mention super fun – walking around with the little scanner and adding things to our list. It brought me back to when we registered for our wedding, but, you know, different… Since this time it included diapers and not wine glasses, haha. It was so simple: we just made an appointment online and that was it! The Personal Registry Partner was really nice and helped us set up the registry quickly and simply in store, then handed us the scanner and let us go to town!
The registry has some awesome features: you get a 10% completion discount when you purchase anything from your registry. You can also earn up to 10% on all purchases made from your registry, and it acts as a receipt for all purchases made from it, so returns and exchanges are super easy. You can add to and remove from your registry whenever you want. They also had a goodie bag for us at the end that included some coupons, a bottle and other useful baby things!
I also learned that they price match, which is AWESOME; I had no idea they did that! I've always known that Babies "R" Us literally has like every baby product, but with price matching and a 10% registry discount on top of that, I really do think it's a great place to register for Baby!
Are you going to be creating a baby registry? Babies "R" Us is having a Registry Party on January 16th (my due date!) from 11am-12pm in all standalone stores, where you can get personalized help in creating and updating your registry. There'll be games and prizes, too, so it should be super fun! Wish we could go, but I have a feeling we might be kind of busy that day. ;)
Babies "R" Us also has a Registry App for iOs users, where you can manage your registry straight from your phone, and update it whenever you want! It also has a handy checklist for baby, which is really nice and useful!
And today, I'm giving away a $100 Babies "R" Us gift card! What would you buy with your gift card? Tell me in the comments for a chance to win.
xo
Read More on Katie Did What