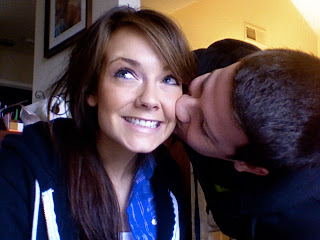 Today has been a good day so far. It's really nice to have a class in the morning, because when i get out it's only 11:30am, and I have the whole day ahead of me. It's a nice feeling.
Zack and I went to Home Depot today to pick up some safety goggles for my chem lab. Ohhh man, do I feel sexy in those bad boys! Quite fashionable. I'll have to plan some really good "Lab Outfits." You know, argyle sweater vests and whatnot.
My parents go up to their new house every weekend, starting on fridays (since most fridays are furloughed for my mom), and I work every weekend, and my mom works every weekday, and I have class every weekday, so it has just happened to work out that I have not seen my parents in a whole week. A whole week! It's terrible, and I really miss them. Sucks that our schedules are not aligning at all, but I think wednesday will be a good night to have some family bonding. Y'know, dinner, movie, all that jazz. Hugging my mom and dad sounds really nice right now.
So since everything got erased from my computer, Zack and I took some pictures in photo booth to make me cheer up, and actually have some pictures on this thing. So that explains the kissing photo. That boy makes me smile like no other.
On a whole other note, but along the same lines of making me smile, we've been watching Jersey Shore on demand. Because of our schedules (working nights) we can never watch regularly scheduled programming, so we basically rely on On Demand shows to catch us up. It means that we're behind the entire world (the finale has already aired, and so has the Reunion show, neither of which we have seen yet), but at least we get to watch episodes in order. And I get my fix of fist pumping and G.T.L. (gym, tanning, laundry). Yeah, so. That's the situation.
(Somebody stop me!)