I went on a fun outing today with my parents and Zack. We went to the galleria in Roseville, on a shopping spree for my birthday (my present from my parents!) It was suuuch fun, and EXACTLY what I wanted for my birthday. We went to Anthropologie, where I got the cutest flower tights, and then h&m, where I (not surprisingly) did some damage.
There really needs to be an h&m closer than Roseville. I mean, yeah, it's only 30 minutes away, but really? Can't it be only 10? Or 5? When I lived in Paris, alls I had to do was hop on a metro, and in no time, there I was. My mecca. *le sigh* Some day…
Anywho. Here's a little picture of some of my goods, all thrown in a lovely pile: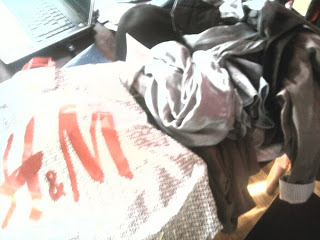 More photos to follow.