One of my favorite parts of the Christmas season is the MUSIC! There's just something about playing Christmas music all day long, hearing it played in shops and around town, on the radio and constantly humming in your head that is just so magical and adds to the joy of the season! I recently made a HUGE playlist of my favorite songs and had to share here! Because making playlists is something that makes me happy- so I hope this particular one makes you happy and adds some joy to your holidays!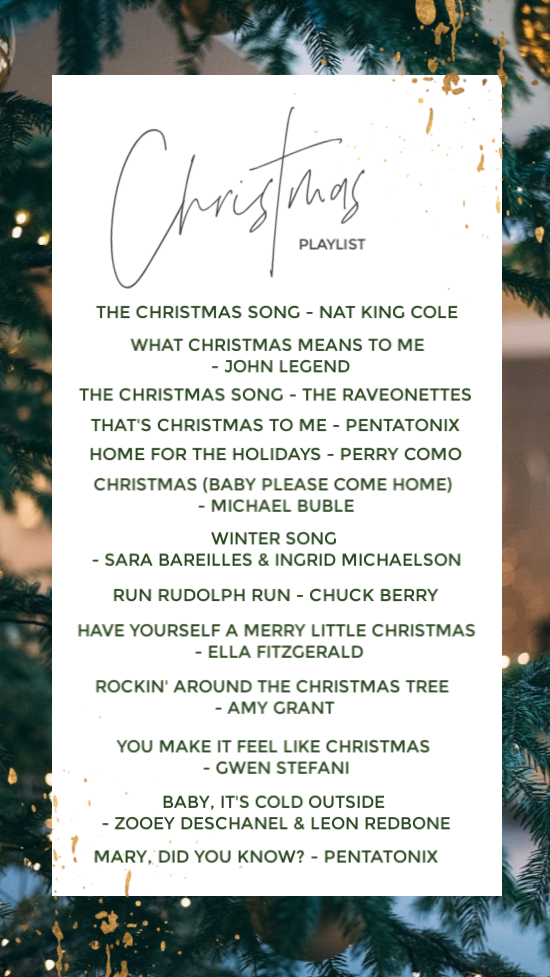 EDITED TO ADD:
I can't believe I forgot All I Want for Christmas is You – Mariah Carey… possibly the best one- that's why I forgot to add it, I think, because it's just a GIVEN, ya know?!??! ;)

AND OTHER FAVORITES THAT WOULDN'T FIT ON THE GRAPHIC:
Santa Tell Me – Ariana Grande
Noel – Lauren Daigle
Face of God – Phil Wickham (new this year and SO GOOD!)
Let It Snow! Let It Snow! Let It Snow! – Pentatonix
Silent Night- Mariah Carey
Jingle Bells – Michael Bublé
Merry Christmas Darling – The Carpenters
Wonderful Christmastime – Paul McCartney
Christmas (Baby Please Come Home) – Mariah Carey
O Holy Night- Josh Groban
Merry Christmas, Happy Holidays – *Nsync
Mistletoe – Justin Bieber
Breath of Heaven (Mary's Song) – Amy Grant
Jingle Bells – Frank Sinatra
Please Come Home for Christmas – Kelly Clarkson
Dance of the Sugar Plum Fairy – Lindsey Stirling
White Christmas – Bing Crosby
Underneath the Tree – Kelly Clarkson
I'll be Home for Christmas – Michael Bublé
Santa Claus is Comin' to Town – Bing Crosby & the Andrews Sisters
Hallelujah – Pentatonix
Ave Maria – Beyonce
Little Drummer Boy – Pentatonix
Cozy Little Christmas – Katy Perry
Carol of the Bells – Pentatonix
Christmas (Baby Please Come Home) – Darlene Love
OKAY I'M DONE.
What are your favorites??
xo